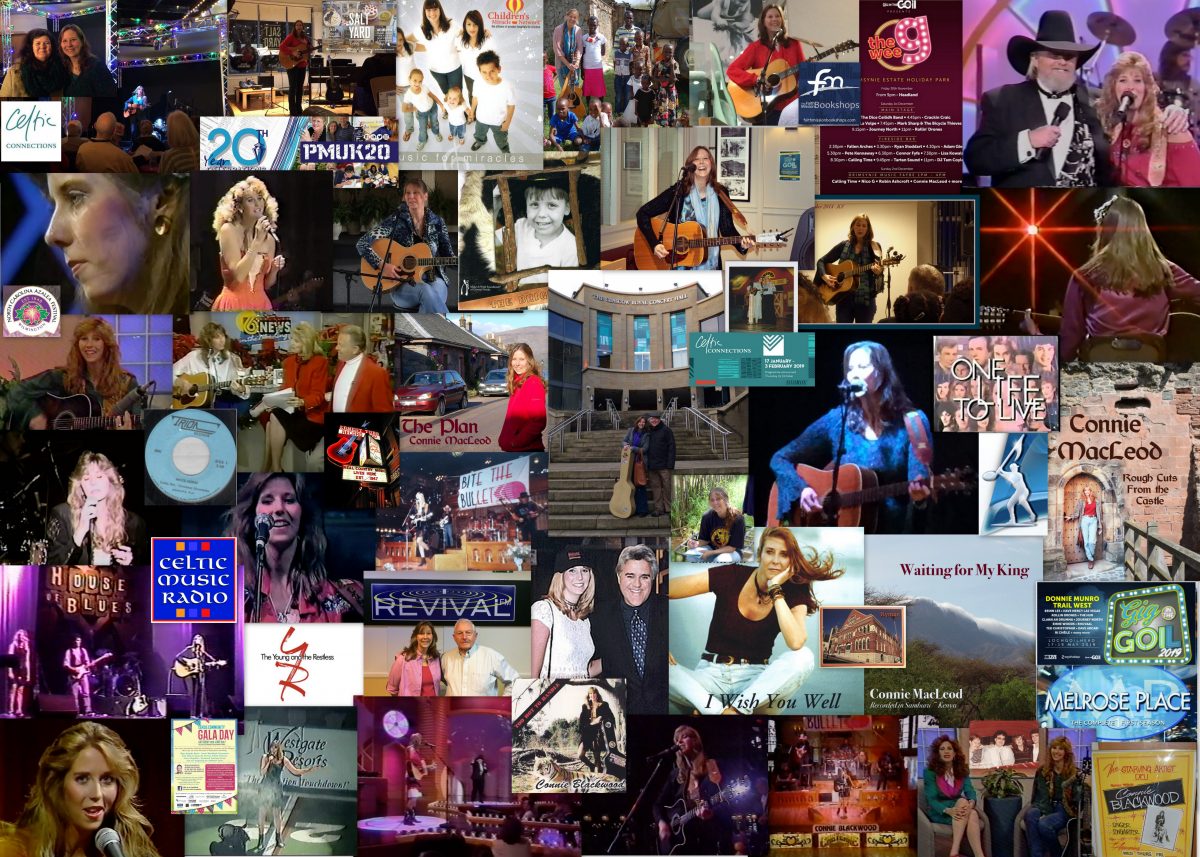 Discography ~ Cuts & Credits
PRODUCTION                                                                 SONG/ROLE
Celtic Music Radio – Celtic Connections 2019/Danny Kyle Open Stage – hosted by Liz Clark

Celtic Fusion – hosted by Bob McWilliam
Cutting Tracks – hosted by Rod Marshall on Revival Radio
Me'n'u' till 2 – hosted by Iain & Leslie Ann Scoular
My Kinda Music – hosted by Bill Anderson on Revival Radio
Oiche Chaillte An Tseanchai ~ TG4 Ireland          "White Horse"
The Young & the Restless ~ CBS                            "Kiss, All I Want is a Kiss" & "Rain Song" (aka "Every Time It Rains")
One Life to Live ~ ABC                                              "Rain Song" (aka "Every Time It Rains")
Melrose Place                                                            "All I Want Is A Kiss"
Arlene's Grocery Film Fest  ~  NY, NY                     "Ocean Bird"
Indie Internet Film                                                    "I Wish You Well"
Wiccan's Lair ~ AJ Robinson Prods.                        "Restless Spirit"
We-Be-TV-WNTO  ~  Orlando,FL                             "Ocean Bird"
Strong Enough  ~  P.Cox Prods.                              "Without Your Love"
Charlie Daniels Talent Roundup ~ TNN                "Can't Burn the Same Bridge Twice"
American Magazine ~ TNN                                      "He's Lovin' You Out of My Mind"
WLAS ~ Jacksonville, NC w/EL Lilly             "You've Got My Heart" – KFC Songwriting Contest Winner

WWKA-K92-FM  ~  Orlando, FL                                  "What Does He Take Me For?"
WMMO-98.9FM w/Jerry Stephans ~ Orlando, FL      "I Wish You Well"  & "You're the One"
WKMG-TV ~ CBS ~ Orlando, FL               AM, Noon, 6 & 11 News & Christmas Morning Special
Tarzan: The Epic Adventures, Tarzan Returns
From the Earth to the Moon ~ HBO
Teen-Age Mutant Ninja Turtles ~ New Line Studios

Nice note from Wing Nut Films regarding "Frodo Fare Thee Well" – W/Ennis Pruitt
Considered for theme song on "Lord of the Rings III ~ Return of the King"
"OCEAN BIRD"
One of my favorite cuts from "I Wish You Well"
Ocean Bird…
Featured on:
WeBeTV  &  Arlene's Grocery Film Festival – NYC

                   Filmed at Ponce Inlet Lighthouse, South Daytona Beach, Florida
Cinematography by Jon Rohrer – We-Be-TV Productions.
Produced by Arte Tedesco – Monkey Fist Productions
Sound engineered by John Blanche – John Blanche Recording Studios
 2018 ~ Rough Cuts from the Castle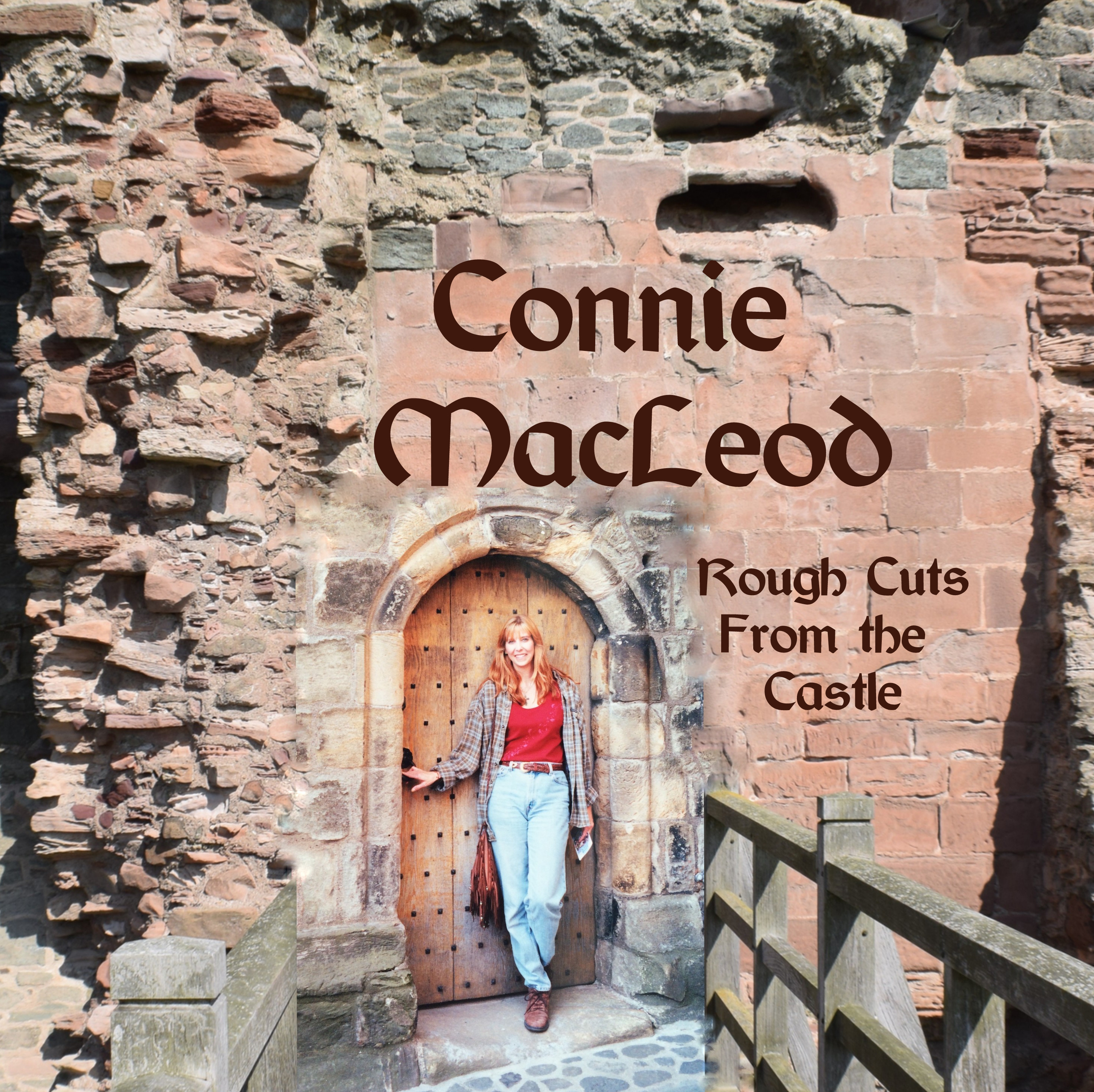 *********

Ever since I was a little girl, first watching Errol Flynn in the classic "Robin Hood," I've had a fascination with the chivalrous era, castles, flowing medieval gowns and virtuous swashbuckling Bravehearts! And it just so happened, the film Braveheart, with it's breathtaking opening scene o'er the bens of Scotland was released on my 33rd birthday! Thanks Mel! Couple that with my great grandfather x7, Magnus Redlon being press ganged away from his beautiful home on the shores of Orkney, and you have an adventuresome saga in the making, one that's been tugging at my heart for decades. This restlessness beckoned me out upon an amazing journey, which I believe you'll find reflected in the songs you're about to venture through.
Not long after 911, I was invited to perform in Germany, at Tannenhof Resort in the Bayerischer Wald. The many castles, lovely villages, mountain hikes, forest walks and friendly people of Bavaria, along with dear friends, The Georgmaier's made it an enchanting visit that inspired, "A Man of Honor," "How about a Fantasy?" and "Is it You?"
Meanwhile, "Every Time It Rains," also featured on "The Plan" was penned in my beloved Scotland. One stormy day in June, curled up in the window seat at Cuil Na Sithe BnB (Gaelic for Corner of Heaven, and you couldn't have picked a better name for the place!) I watched as a storm made it's way over the peak of Ben Nevis. The approaching clouds and patter of rain upon the window, hastened by the blustery wind inspired me to put words to melody, reflecting how deeply this glorious country had touched my heart. It was a journey I truly would remember every fiber of, every time it rained! The song has been featured on major network shows like "One Life to Live" and "The Young and the Restless," but I have to admit, the day my publisher called to say, "Your song's on a soap opera!," initially, I was thrilled! Wow, my song was playing on a major network show…then as it sunk in I thought, "Oh dear, my song is on a soap opera! I hope it's a scene my Mom and Dad can watch!" By God's grace, they have been!
Now then, if the opening track, "Forever" has a distinctly Journey-esque feel, there's an interesting tale that might explain. After waking from a vivid dream that I was jamming with the band, I dashed to my 1912 Steger and Sons upright grand where the song literally, spilled out so quickly, I scarce could write it down fast enough. The more I played it, the more I imagined the extraordinary vocals of Steve Perry singing it, and I've endeavored to make that happen! I had a good friend in Nashville, who once I explained what I was hoping for, got right to work. In his Nashville studio, Jody Harris created that epic guitar intro and solo, as well as those smooth, dreamy backing vocals to my absolute joy! Thanks Jody. Though it would truly be a dream come true for Steve to record this song, even nicer, was meeting him at a cafe in LA in 2016, thanks to the orchestration of an anonymous tweeter. For a few rare moments, I was able to tell him how much I admire his music, gift him with a Samburu bracelet, in the colors of his San Francisco 49-er's and let him know I'd been praying for him.
For all you Lord of the Rings Fans, you'll find "Frodo, Fare Thee Well" written with my friend Ennis Pruitt, of the world famous "WyndBreakers" an intriguing find. Both avid fans of the trilogy, we were inspired to share a bit of LOtR Lore in song, and with a bit of boldness, found our selection being considered for inclusion in "Return of the King!" It was exciting, as Dickey Lee pitched it to the folks at New Line Cinema, but alas, the very talented in-house team of Howard Shore and Annie Lennox produced the winning combination. Even so we received a lovely nod of thanks from Peter Jackson and the Wing Nut team!
Since this is a bit of a retro album, there's someone I'd like to mention from the I Wish You Well project. Working to a deadline, the liner notes had been edited several times, from 12 pages, to 6, then down to 4, and in that, my dear friend Carlos Mogollen was never given credit for co-writing the emotionally charged, reminiscent of Selina, "You're the One." It was entirely his melody, and a privilege to craft lyrics together, so though it's a few years overdue, I wanted to give a nod of thanks to a very talented writer, performer and friend who was my musical partner for many adventures in NYC & WPC! Thank you Carlos!
Life is truly a journey, and to all my wonderful songwriter and musician friends I've met along the way, and had the privilege of creating music with, I'd like to say a humongous, Thank You! In particular to Tosh Ono for the amazing guitar skills and encouragement! To Susan Raugh & Tony Ward who remind me often that "Not all Angels" come from Heaven, some are right here on Earth! To Brian Finnerty for Bermuda and arranging the Clay House Inn debut. To Susan Duffy for sharing the Kerrville adventure and Kevin Meaney jokes! To Linda Borden for the stories about your Gran, her roadmap and your sweet countenance. Mark Elliott, Tim Johnson, Mickey Justice, Catesby Jones, Gordy Thomas, Mike Daly, Harry Warner, Raggedy Man, Pam Tillis, Kathy McGovern, Troy McConnel, Vick Willis, Ree Van Vleck, Dickey Lee and the Carroll family for your friendship and making Nashville such a wonderful place to be a songwriter! To Mike Kohler, for recording my very first songs at Trion, you are missed! And especially to John Blanche for the years of your expertise, patience, kindness and taking me to see puppies on the days when it was too hard to get through the songs. You guys are all so very dear and hold an especially treasured place in my heart!
Also, another humongous thank you to Cindy Badell-Slaughter and Barbara Jordan at Heavy Hitters Music! You ladies rock the world and make film and television a much better place because of your music savvy! Thanks so much for letting my tunes get up to bat in your catalogue!
Ah, the human heart is an amazing creation. Within it lies the capacity to ascend the heights or plunge the jagged depths of human emotions, driving souls throughout the ages to rapture, to regret, to abide, to endure, to forgive and to simply live. The joy and the pain combined are what make us human, so cling to those innocent, first blooms that whisper, "Oh fragile heart, take courage, be patient and kind, do not envy or boast, be not arrogant, nor rude, and do not insist on your own way. Be not resentful or irritable, or tempted by wrongdoing, instead, rejoice in the truth. Love bears all things, believes all things, hopes all things and endures all things, for Love never ends."
"Rough Cuts from the Castle" is my collection of beloved songs, created over the last decade, to transform an ordinary day, into multi faceted sparkling jewels. May each radiant offering inspire you to great deeds of kindness, chivalrous adventures and a spirit that bids you to fearlessly pursue your dreams!
I wish you Peace, God's richest Blessings and Wonderful Adventures,
With love from the castle,
Connie (Stroedecke – Blackwood – MacLeod)
Mastered (mostly) by John Blanche at his studios in Longwood, FL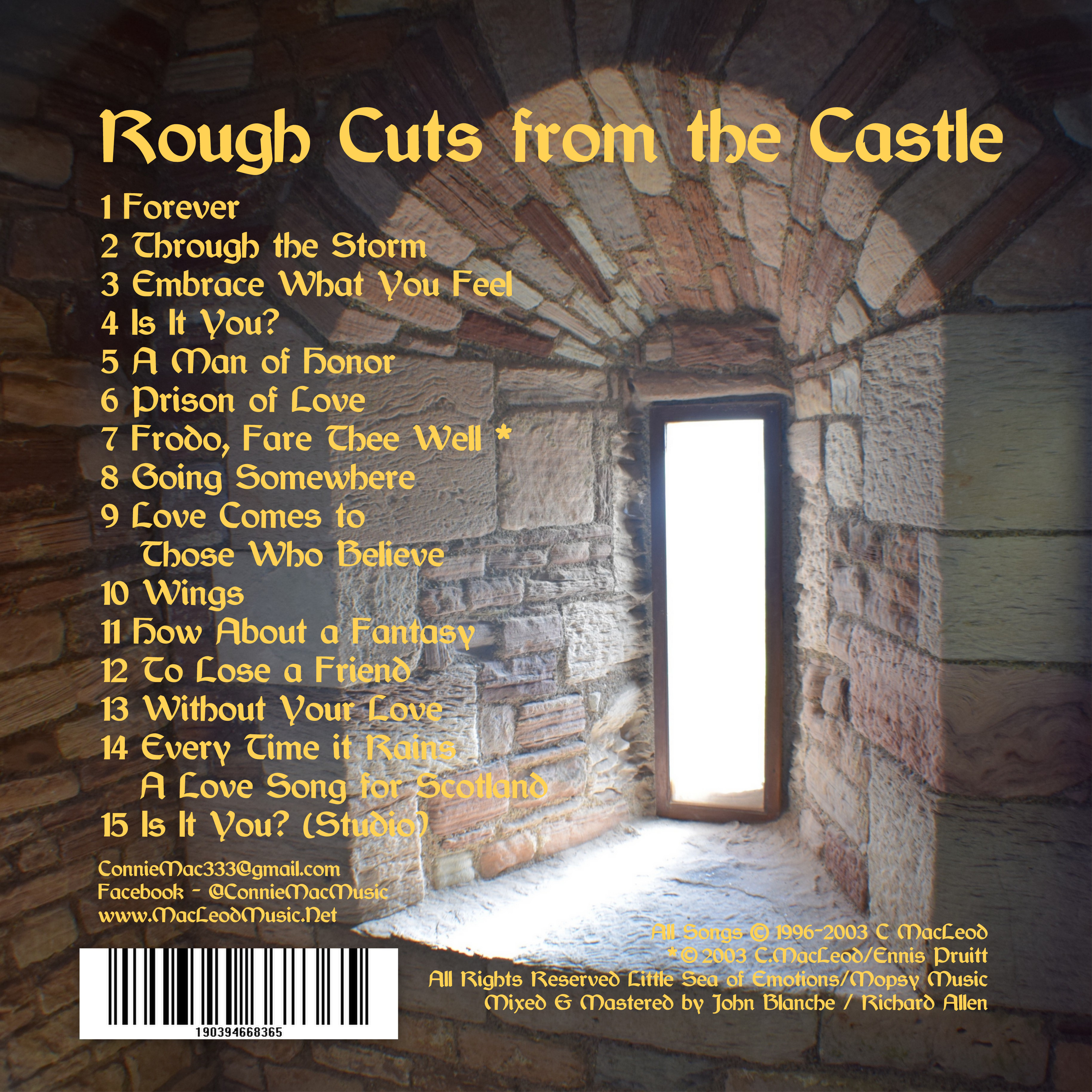 ~ ~ ~ ~ ~ ~ ~ ~ ~ ~ ~ ~ ~ ~ ~ ~ ~ ~ ~ ~ ~ ~ ~ ~ ~ ~ ~ ~ ~ ~ ~ ~ ~
2017   ~   "Waiting For My King"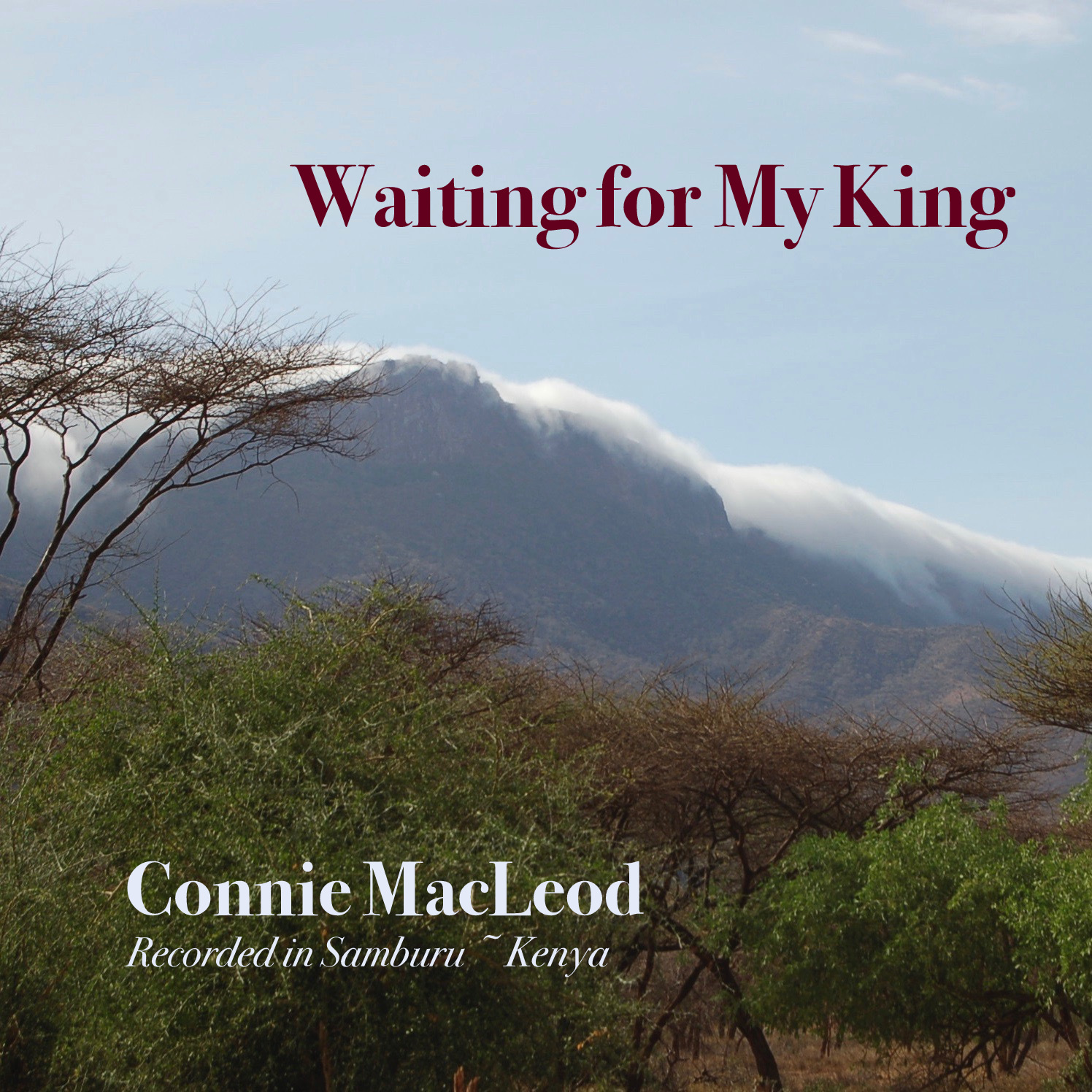 The Story Behind Waiting for My King…
I began writing "Waiting for My King" on a Christmas Eve in the Samburu bush. 
It was quiet, except for the wind coming over the mountain late that night.  To start, all I had was the pretty guitar intro and the first line, "I am waiting for a king."  After a few months, the first verse and chorus came like a flood, wrote like crazy putting it on paper.  The message of this song was so good, I could hardly wait to finish and record it…I was really excited!  But hard as I tried, I had no idea where to go with the lyric.  Absolutely Nothing!  An entire year of nothing went by!  Though I would think on the song often, it was like staring at a blank wall.  This wasn't writer's block, it was Jesus helping me to experience the reality of what and why He gave me the song in the first place. 
Then, one afternoon while fetching water, out of the blue, came the 2nd verse!  The lyric… Wait for it…  was this: 
"I'm impatient…" 
Considering the title, it made me laugh out loud!  
Jesus has a much bigger sense of humor than we give Him credit for!  Don't you love Him?  I do!!!
~ ~ ~ ~ ~ ~ ~ ~ ~ ~ ~ ~ ~ ~ ~ ~ ~ ~ ~ ~ ~ ~ ~ ~ ~ ~ ~ ~ ~ ~ ~ ~ ~
"THE PLAN"   ~   2016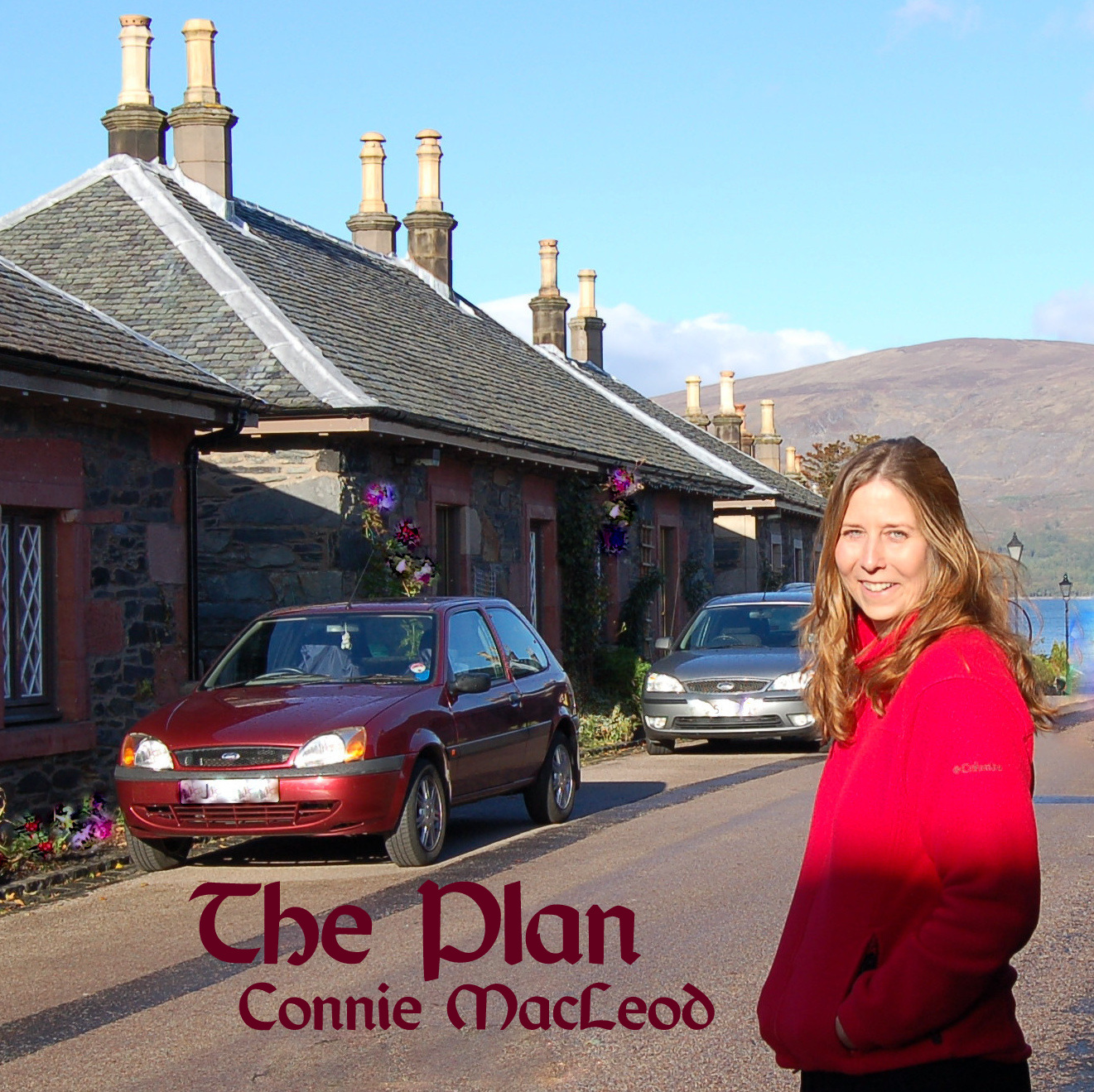 Release Date   ~   December 11, 2016

LINER NOTES…I believe I was born singing, that is once the doc unwrapped the umbilical cord from my wee neck. Those years ago, my tiny face was blue as William Wallace and his warrior's as they took to the battle fields of Scotland to win their precious freedom.
Fighting for my very first breath, that same deep longing that pulsed though their veins, an inexpressible ache that no one, nor event or thing can possibly fill, reverberated in the depths of my soul. In all my years, I lived, breathed, ate and slept…Music…until one fleeting event took it all away. What I believed I was born to do, my earthly rock, which brought great value and wonderful joy, had crumbled, like dust blown to the four winds.
Truly it takes a Braveheart to navigate the complexities of this life, the loss of dreams and loved ones, the turmoil and constant barrage of bad news. Yet, despite all this, we don't have to forge this battle alone…there is a glorious hope, one that gave me new life, a new voice and a new song to share.
You see, we can believe in a lot of things…but when it comes right down to it, eternity, I mean, what matters most is who you believe in! His name is Jesus, He said He was God, He proved He was God, and the world hated Him so much, they carried out God's plan of Salvation through the only Savior who loved us enough to give His life for you and me.
Jesus rescued me when I flat lined at 16, and life has never been the same. Traveling Scotland, Africa, cross continents and boarders, here are musical paintings, a riot of color in an otherwise dreary world…
May these melodic portraits lead you to the one who is calling to you now….
"Run to Him, Just the way you are… He loves you, surrender to His love…for that's God's plan!"
PS…You may wonder why track 10 "Every Time It Rains" is noted "For Scotland." Well, the story behind the song is this…
Not long after regaining some healthy glow in that wee baby face, my longing for all things Scottish had my parents wondering if they might have brought home the wrong child! My persistent pestering for a kilt and bagpipe lessons came long before the discovery that my great, great, great, great, great, great grandfather was Magnus Redlon. As this strapping young Scotsman struck out from Shetland to make his way in the world, he was promptly pressed into service aboard a British man of war ship by the King's navy, ne'er to see his family or homeland again. However, upon reaching the coast of Maine, he jumped ship and begin a "Patriot" like adventure in the blossoming new land called America! Magnus ne'er lost his love for Alba or the sea, which was handed down generation after generation to me.
That burning passion for Scotland was temporarily appeased in 2001, the first of many visits to this amazing land of mountains, history and mystery. While nestled safely in the window seat of Cuil Na Sithe B&B, the approaching storm making way over the peak of Ben Nevis mirrored my life at the time. I had few more precious days to savor the peace and majesty of the bens, glens and fragrant air, like that scene from Braveheart, where Wallace comes back and drinks in a deep breath of the air rich with gorse, flowers, peat and freshness off the ocean. …….. There, I wrote this love song to Scotland…capturing my yearning to remain where my heart had always resided, and through a few miraculous events, that's now a reality!
May these songs, especially, "I Love Your Name," "True North," "I Believe," and "The Plan" be a starting point to a personal journey with the one who loves you so very dearly! His name is Jesus and He's waiting to spend a glorious eternity with you! Fear not, this is the epic journey of a lifetime…
Tracks recorded in Samburu Kenya, then mixed and mastered by John Blanche in Longwood, FL
~ ~ ~ ~ ~ ~ ~ ~ ~ ~ ~ ~ ~ ~ ~ ~ ~ ~ ~ ~ ~ ~ ~ ~ ~ ~ ~ ~ ~ ~ ~ ~ ~
"MUSIC FOR MIRACLES" ~ 2006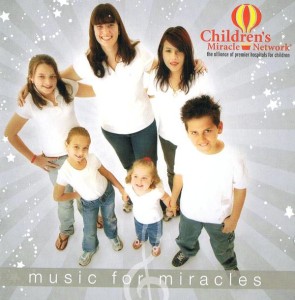 Featuring "NOT ALL ANGELS COME FROM HEAVEN"
co-write with Tony Ward
Tony works tirelessly to bring joy and hope to the hearts of children and young adults facing life threatening diseases!  I was honored to be a part of this wonderful project.

"Not All Angels Come From Heaven"
Also featured on "The Bright Side" 1998 – Below
~ ~ ~ ~ ~ ~ ~ ~ ~ ~ ~ ~ ~ ~ ~ ~ ~ ~ ~ ~ ~ ~ ~ ~ ~ ~ ~ ~ ~ ~ ~ ~ ~
"SHINE" ~ 2003
Songwriters Showcases of America Compilation Vol 3
Featuring "EVERY TIME IT RAINS"
Central Florida has a plethora of songwriter's and organizations to encourage, introduce new talent and share some wonderful music.  Since 2001, SSA has been awarding talented songwriters and performers for their efforts, nominating Connie in 2002 "Best Female Vocalist" & featured "Every Time It Rains" on the SSA 2003 showcase album!
~ ~ ~ ~ ~ ~ ~ ~ ~ ~ ~ ~ ~ ~ ~ ~ ~ ~ ~ ~ ~ ~ ~ ~ ~ ~ ~ ~ ~ ~ ~ ~ ~ 
"OASIS ACOUSTIC SAMPLER" ~ 2003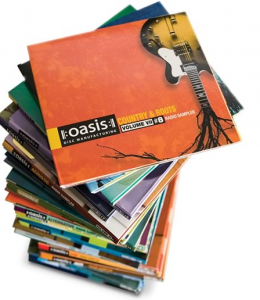 Oasis Recordings Vol. 36
Featuring "I WISH YOU WELL"
~ ~ ~ ~ ~ ~ ~ ~ ~ ~ ~ ~ ~ ~ ~ ~ ~ ~ ~ ~ ~ ~ ~ ~ ~ ~ ~ ~ ~ ~ ~ ~ ~
"I WISH YOU WELL" ~ 2002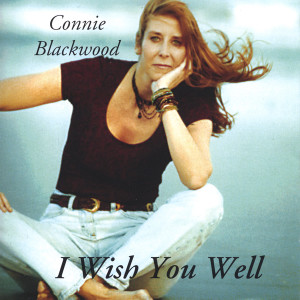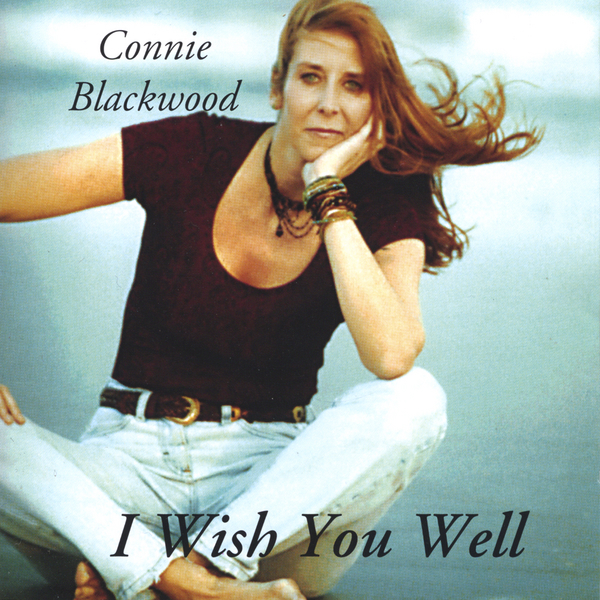 Connie Blackwood, Another Pretty Face…Absolutely Not!!! This Adult Contemporary artist has been Writing, Producing and Performing her inspiring catalog of songs to audiences across the United States, On Stage, In Film, Television, Radio and Overseas.
Heaven knows no boundaries for a true romantic like Connie. Her thought provoking lyrics and haunting melodies can inspire even the toughest of cynics.
A culmination of four years of work with Grammy winning engineer John Blanche, the magic continues with "I Wish You Well." The music inspired the award winning "Ocean Bird" video (produced by Arte Tedesco, Monkey Fist Productions & Videography by Jon Rohrer, WEBTV) which recently made it's New York City debut at "Arlene's Grocery 3rd Annual Film Fest" in the Village.
Not being a pampered girl, Connie works hard in many facets of the entertainment world. She has earned membership in the Actor's Equity Association and performs in theaters and on the big screen. Credits include "Break the Spell of Silence," "Wiccian's Lair," "Head Trip" (featuring songs on the soundtracks) and "From The Earth To The Moon" on HBO(directed by Sally Field.) Blackwood hopes to get more principle film roles, but her first passion is her music. Most recently she was heard on "One Life To Live" singing soon to be released, "Every Time It Rains." It's really a love song to Scotland!
Connie takes you to Lush Tropical Dreamlands, Across Oceans & into Uncharted Waters…Sung from the heart, these melodies will stay with you for some time to come….Let the Journey Begin…
* Featuring – Ocean Bird – Music Video Filmed at Ponce Inlet Light House, FL ~ Featured at Arlene's Grocery Film Fest & WeB-TV
You're the One, co-written with Carlos Mogollen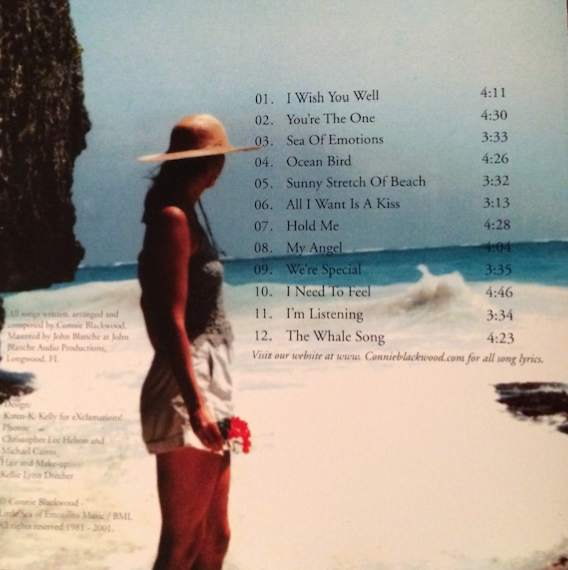 "YOU'RE THE ONE"
Co-write with Carlos Mogollen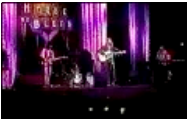 House of Blues – Orlando, FL
~ ~ ~ ~ ~ ~ ~ ~ ~ ~ ~ ~ ~ ~ ~ ~ ~ ~ ~ ~ ~ ~ ~ ~ ~ ~ ~ ~ ~ ~ ~ ~ ~
"CELEBRATING THE FAMILY EXPERIENCE: ~ 2002
ORLANDO SINGS SONGS OF INSPIRATION FOR PARENTS"
Featuring
"LINDY" (Encouraging Story)
~ ~ ~ ~ ~ ~ ~ ~ ~ ~ ~ ~ ~ ~ ~ ~ ~ ~ ~ ~ ~ ~ ~ ~ ~ ~ ~ ~ ~ ~ ~ ~ ~
The Country Collection…
"JIM BEAM BACK-ROOM BAND CHALLENGE" ~ 2000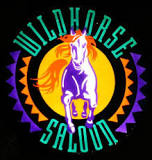 NATIONAL FINALIST
Featuring all original music
WILD HORSE SALOON ~ Nashville, TN
Spent a lot of time kicking around Nashville, playing places like Blue Bird Cafe, Davis Kidd Bookstore, 3rd Coast Cafe and The Arcade!  Occasionally, after playing for lunch and tips at the Arcade, while walking down to the 50 cent parking lot, now replaced by the sports arena, Fred, the doorman at the Original Ryman Auditorium would call me in, turn on the microphones and I'd play on stage at the Opry!  It's a great place to hone your writing chops!
Here's a few songs to consider for your next Country project.
Mend My Broken Heart   ~   (aka ~ Flowers & Duct Tape!)

Just Ask Me   ~   (Tender Male Love Ballad – Featuring Jody Harris)

"Stop Playing On My Mind"  ( Featuring Mike Daly on steel guitar!)

Where Is the Man I Knew?   ~   (Melancholy, yet hopeful Female ballad)

~ ~ ~ ~ ~ ~ ~ ~ ~ ~ ~ ~ ~ ~ ~ ~ ~ ~ ~ ~ ~ ~ ~ ~ ~ ~ ~ ~ ~ ~ ~ ~ ~
"THE BRIGHT SIDE" ~ 1997/98
Make a Wish Foundation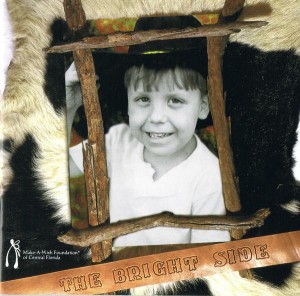 Featuring
Not All Angels Come From Heaven 
Co-write with Tony Ward
Piano by Wayne Gratz on Narada Records

 ~ ~ ~ ~ ~ ~ ~ ~ ~ ~ ~ ~ ~ ~ ~ ~ ~ ~ ~ ~ ~ ~ ~ ~ ~ ~ ~ ~ ~ ~ ~ ~ ~
"Charlie daniels talent round up"
Featuring "You Can't Burn the Same Bridge Twice"
and a fun exchange with Charlie as Connie throws it to commercial!
~ ~ ~ ~ ~ ~ ~ ~ ~ ~ ~ ~ ~ ~ ~ ~ ~ ~ ~ ~ ~ ~ ~ ~ ~ ~ ~ ~ ~ ~ ~ ~ ~
"TOO HOT TO HANDLE" ~ 1996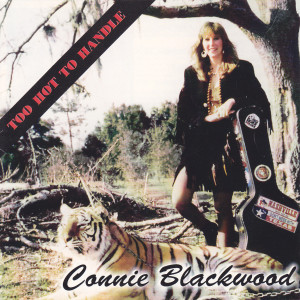 Liner Notes…Too Hot To Handle…is Connie Blackwood's first album. She's a Jersey girl who recorded in Nashville, TN and Orlando, FL and came up with a gem of a recording.
K92FM in Orlando's favorite pick is cut # 3, "What Does He Take Me For?" You can tell she put a lot of thought into the writing process and you can't help but hum the tunes after hearing them. She's just got a way of drawing you into her songs!
The concept of "Too Hot" had Connie searching for a unique album design and landed her in the reach of a 300 pound Siberian tiger named Sonny. They were both glad to pose for the cover and bonded quickly. You know how cats love string…well check out the fringe on that jacket and skirt and…well, you get the picture.
One of Connie's favorites is "Cheyenne Moon" penned with her buddy "Mark Elliott."  "It's amazing what you learn from a romance novel…we created a story from a place I read about. Then I ended up not only singing at the Cheyenne Saloon in Orlando, but having the CD release party there as well." There's a lot of history in the songs and in the making!!
Maybe it's not Nashville's idea of Country…she's been turned down by some of the majors, but when you hear songs like "Trophies" and "Driving You Out of My Life" you can see the people she writes about in everyday life…and that's what being a great songwriter is all about.
Check out "too Hot To Handle" and don't be surprised if you fall "Crazy In Love" (co-write with Mike Bell) with a whole new brand of Country!
~ ~ ~ ~ ~ ~ ~ ~ ~ ~ ~ ~ ~ ~ ~ ~ ~ ~ ~ ~ ~ ~ ~ ~ ~ ~ ~ ~ ~ ~ ~ ~ ~
"DRIVING YOU OUT OF MY LIFE" ~ 1992
Recorded by Laurie Kinslow
Nashville, TN
~ ~ ~ ~ ~ ~ ~ ~ ~ ~ ~ ~ ~ ~ ~ ~ ~ ~ ~ ~ ~ ~ ~ ~ ~ ~ ~ ~ ~ ~ ~ ~ ~
"LOVE ME" & "WHITE HORSE" ~ 1986"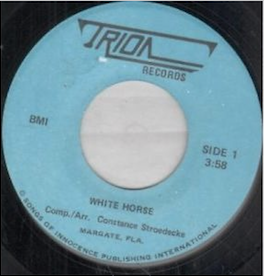 My very first time in the studio!!
Recorded at Trion Recording Studios, Margate, FL
Produced by Michael Kohler & Danny Perez
© 1981 -2014 Connie (Stroedecke) MacLeod
~ ~ ~ ~ ~ ~ ~ ~ ~ ~ ~ ~ ~ ~ ~ ~ ~ ~ ~ ~ ~ ~ ~ ~ ~ ~ ~ ~ ~ ~ ~ ~ ~

Save

Save

Save

Save

Save

If something here has made your day a little brighter, please share it!